Welcome! I am so excited about this week. Myself and several other bloggers have banded together to bring you the ABC series. We each have a specific topic and we will be posting A-Z everything you will need to know about the topic.
My topic is Learning Through Play. I am so excited to share with you the A-Z of learning through play and hope that we all will learn something useful along the way! I will be posting Mon-Friday of this week each day covering 5 letters. This page will be the landing page where I will link each post to once it goes live. You will also be able to view the other bloggers posts on this page as well.
By clicking on the image below you will be directed the landing page for the whole The ABC's of…. series which is being hosted by This Reading Mama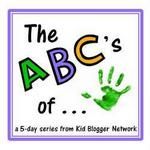 style="display:inline-block;width:468px;height:60px"
data-ad-client="ca-pub-9576997635468182"
data-ad-slot="7099932152">

Post Footer automatically generated by Add Post Footer Plugin for wordpress.